Exhibits
Grand Central Gallery & Store
Our Grand Central Gallery & Store is located just off the Main Concourse in the Shuttle Passage, adjacent to the Station Masters' Office.
Due a generous donation, effective Friday, November 24th the New York Transit Museum's Holiday Train Show will be free for all visitors. We are incredibly thankful to have received this support and are glad to be able to pay it forward. Happy Holidays, New York!
Click here for more information on hours, admission, and directions.

---


Holiday Train Show
On view through February 2024
Free admission effective Friday, November 24th
This holiday season, the New York Transit Museum's Grand Central Gallery & Store plays host to a city within a city with the display of a miniature electric railroad running over, through, and beneath some of New York's most magnificent landmarks. Returning for the first time since the Museum's pandemic closure, this beloved holiday exhibit features Lionel model trains traveling along a 34' long, two-level, "O" gauge model train layout. Departing from a miniature replica of Grand Central Terminal, the Transit Museum's collection of model trains including Metro-North, Polar Express, and vintage subway train sets will dazzle the eyes of children and adults alike as they make their way past New York landmarks and on to the North Pole!
---
Transit Museum in Downtown Brooklyn
The New York Transit Museum is located in a decommissioned subway station at 99 Schermerhorn Street. Advance tickets and masks are recommended but not required. Click here for hours, admission, and directions.
---
Rotating Exhibits:
Streetscapes & Subways: Photographs by Pierre P. and Granville W. Pullis
Now On View! 
As New York's subway system was being planned at the turn of the 20th century, transit officials did what any large construction company would do today: hired an official photographer to take survey photographs and provide precise documentation of an area prior to—and during—construction. Streetscapes & Subways: Photographs by Pierre P. and Granville W. Pullis provides a rare view of the last days of "old New York" through the lenses of two of the earliest photographers of subway construction. The photographs transcend their original purpose, showing New York changing on a daily basis as a result of the subway and revealing architectural and cultural details of a city that would otherwise be long forgotten.
---
Reign of the Redbirds
Now On View!
2019 marks the 60th anniversary of the introduction of the R-26, the first of nine types of similar-looking subway cars that ultimately came to be known as "Redbirds." If you rode the subway between 1959 and 2003, chances are it was on one of these cars. Introduced at varying times and in various colors, they collectively came to be known as "Redbirds" because of the color they were painted from 1984 until the fleet's retirement in 2003. Boxy and industrial-looking, the cars that became the Redbirds arrived in New York City at a time of great transition. In service for more than four decades, they captured the imaginations of millions, became as iconic as the subway token, and still evoke expressions of admiration to this day.
Reign of the Redbird is sponsored by

---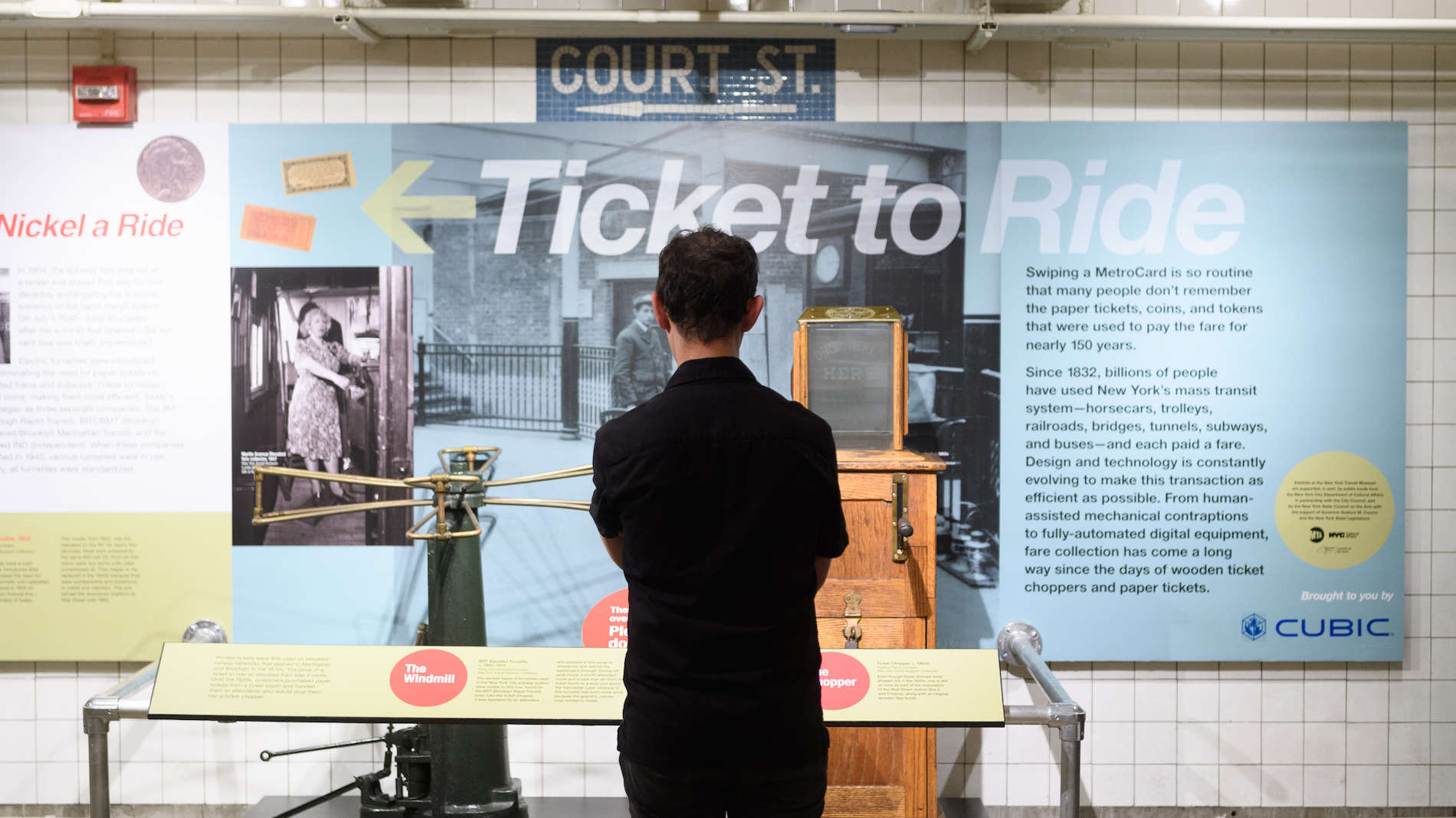 Ticket to Ride
Now On View! 
Through archival photographs, ephemera, and objects from the Transit Museum's extensive collection, Ticket to Ride shows the evolution of fare collection across all of New York's modes of transportation. Visitors will see and touch different types of collection equipment such as turnstiles and fare boxes, get a sense the colossal process of fare collection, and see some of the people who make sure the money goes where it's supposed to go.
Ticket to Ride is generously sponsored by

---
Permanent Exhibits:
Steel, Stone & Backbone: Building New York's Subways presents a look at the construction methods and labor required to build the city's first subway line at the turn of the 20th Century. Historical artifacts, video and photography footage bring to life the dedication and tenacity of the workers who made this project possible.
---
Moving the Millions highlights the evolution of the subway and the major issues and events that influenced the development of the largest transportation network in North America.  Home to twenty vintage subway and elevated cars dating back to 1907, and a working signal tower, the Museum's working platform level spans a full city block
---
On the Streets: New York's Trolleys and Buses tells the story of above ground mobility and surface transit from the early 1800s to the present.  A 12-seat city bus, "fishbowl" bus cab, walk-don't walk signs, parking meters, fire hydrants, traffic lights, and an array of other interactive "Street furniture" bring this exhibit to life. Visitors can also learn about the evolution of fuel technologies and its environmental impact.
---
No Spitting on the Platform includes a selection of historic way-finding and platform etiquette signage from the New York Transit Museum's archives.
---
The Dr. George T.F Rahilly Trolley and Bus Study Center features over 50 detailed scale models of trolleys and work cars, with a focus on Brooklyn.
---
Digital Exhibits
Click here to view our online exhibits.